Good Afternoon, This is a reminder that today is voting day in the Oxford Hills. Please take the opportunity to vote in the state and local elections, and on the school budget. We encourage you to bring your school-age child so that they can learn about the process of voting. Sincerely, Heather Manchester Interim Superintendent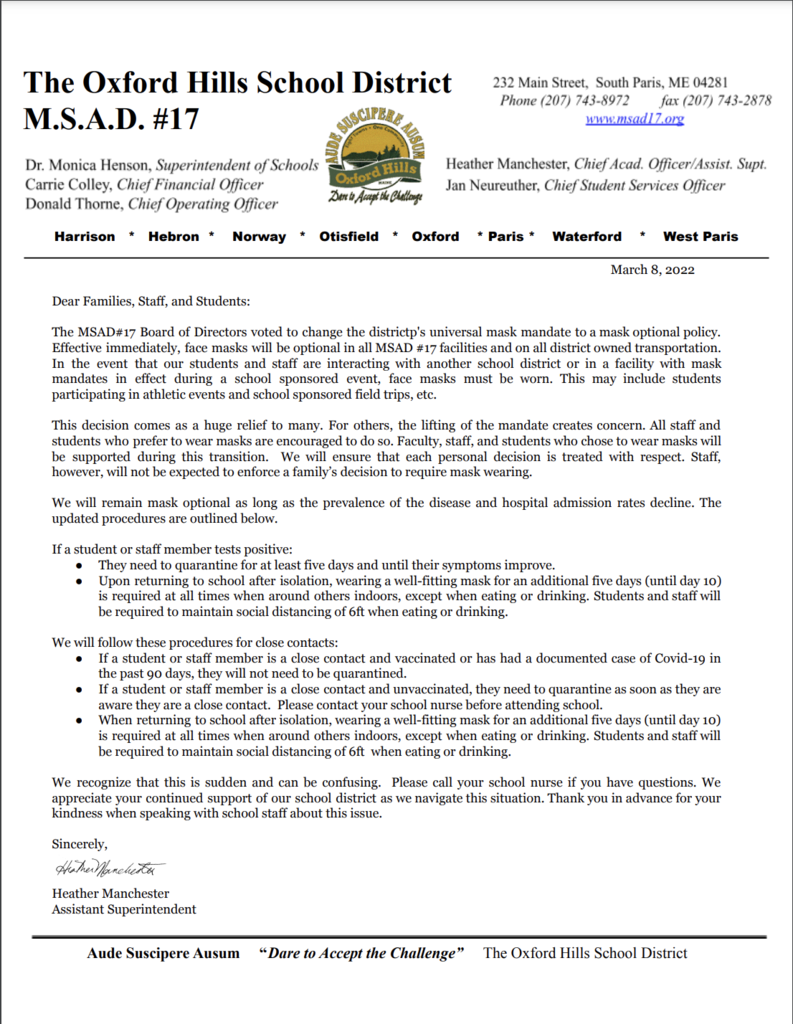 Good Morning, Our district was surprised with varying amounts of snow this morning. There will be a 2 hour delay in the Oxford Hills School District today, Thursday, March 3. Thank you, D.J.

Hello Vikings! We are excited to announce that based on the current trend of decreasing Covid-19 cases, our Covid Response Team has decided to increase the capacity of the high school gymnasium.  Vouchers will no longer be required to attend home basketball games.  Come cheer on the Vikings as they finish the season.  Masks are required for all who attend.

The Oxford Hills School district will have a 2 hour delay today, Tuesday, February 8.

In anticipation of inclement weather, tonight's MSAD 17 Board of Directors meeting has been postponed until tomorrow evening at 7:00PM.

There will be no school Friday, February 4 in the Oxford Hills School District.  Snow is expected to begin tonight around 7:00 PM and continue throughout the day tomorrow.  All buildings, including the Central Office, will be closed for the day.  Enjoy your weekend!

The kids and teachers at Harrison Elementary are participating in a ton of outdoor activities as part of the Winter Kids program. Today, the 4th grade participated in a relay race in which they had to sort topics related to health. The 3rd graders played a version of red light/ green light with healthy foods. It was wonderful to see the kids playing outside with healthy grins on their faces!! #winterkids #learn17 #smilingfaces #winter